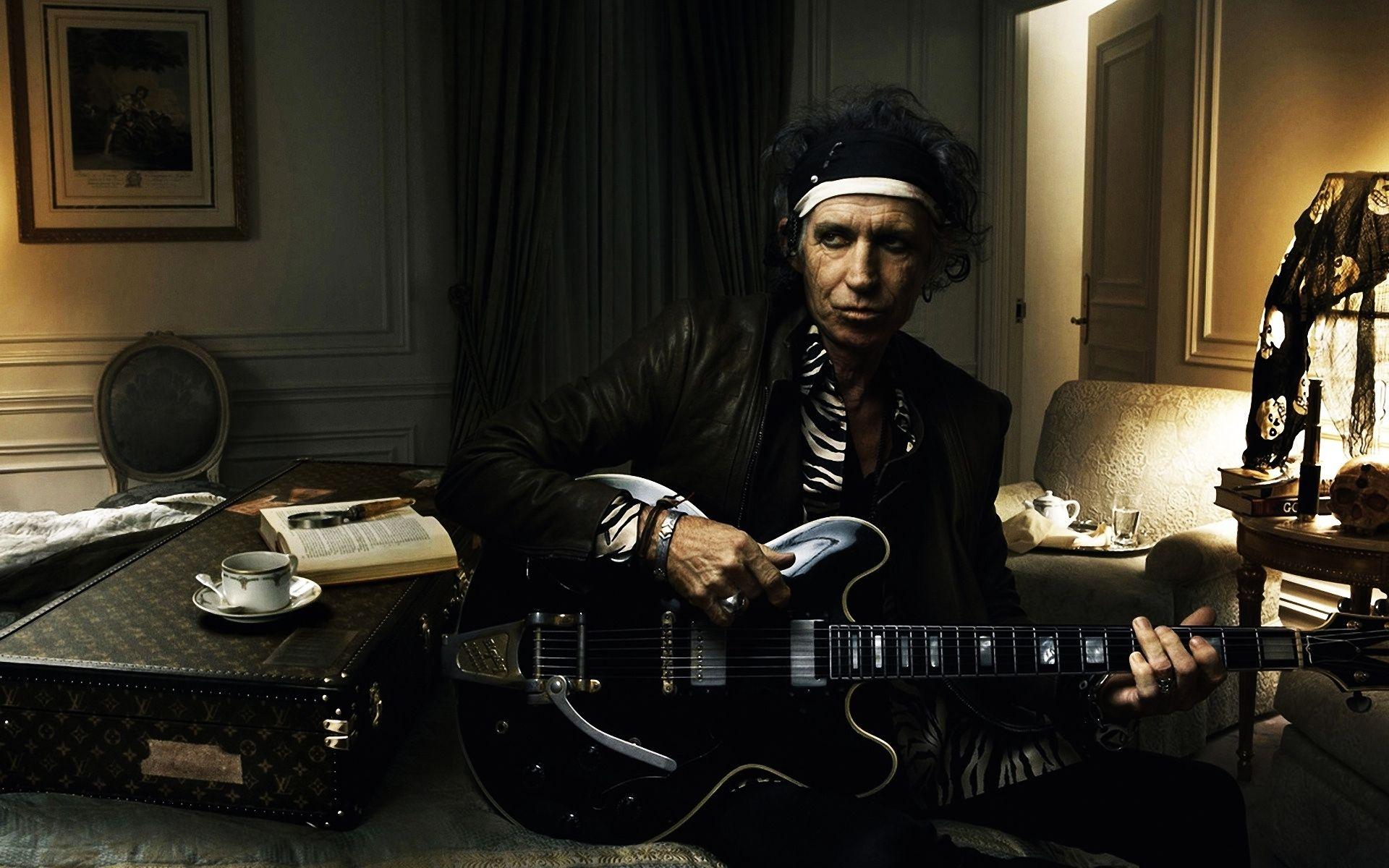 As of yesterday, Keith Richards is 78 years old; judging by his iron will and stupefying ability to withstand heroine addiction, a cracked skull, and a myriad of other instances that would kill a normal person, he will likely have 78 more when all is said and done.
More-so than his infamous lifestyle, the legendary Rolling Stones guitarist is defined by his body of work: known as the Human Riff, Keith's ability to kickstart a song into the stratosphere with his slashing, ringing chords coupled with his unique sense of timing and melody make him one of the most instantly recognizable musicians of all time. Within seconds, whether it's a Stones song or a cameo for another artist, you know when Keith Richards is playing, and you know it's gonna be good.
In honor of Keith's latest revolution around the sun, we count down arguably his 10 best, most recognizable and inimitable intro riffs on some of the Rolling Stones' most enduring classic.
Pour yourself some Jack, light up a Marlboro and immerse yourself in the gritty aural magic of Keith Richards.
10. 19th Nervous Breakdown (single, 1966)
The 'bull in a china shop' barrage of chords that start off this classic 1966 single perfectly sets up the song's humorously frantic tone. Coupled with Mick's condescending 'told ya so' lyrics delivered at a rapid fire pace, it's one of the best marriages of the Glimmer Twins' strengths in terms of getting the feel for a song just exactly perfect.
9. Beast Of Burden (Some Girls, 1978)
The band's toughest ballad gets much of its muscle from Keith's riff, which sounds at once defiant, tender, and melancholy. Mick's vocal delivery is full of cocksure attitude; it's Keith's playing that gives "Beast of Burden" its weather beaten heart and exposes the narrator's vulnerability that Mick is trying to conceal with his bravado.
8. Rocks Off (Exile On Main Street, 1972)
The opener for the band's sprawling masterpiece leaps out of the speakers like a panther courtesy of Keith's clarion riff. Like "19th Nervous Breakdown," Keith's role is to set up a frantic, anxiety ridden tale of excess, paranoia, and mental decay, and he succeeds again with an edgier, darker approach that fits the squalid, wasted atmosphere of Exile on Main Street like a glove.
7. Midnight Rambler (Let It Bleed, 1969)
The Stones' most exciting live tune and the closest they ever came to a proper rock opera, Keith's lurching, menacing riff is him at his most feral and vicious. For a song that's about a serial murderer and rapist, you could not ask for a more appropriately demented, vicious sound. To this day, he still crunches it out with the same vigor.
6. Start Me Up (Tattoo You, 1981)
The riff that launched a thousand sporting events, and roughly a similar amount of Stones concerts. "Start Me Up" is arguably the last truly deathless Stones anthem, and it's all thanks to Keith's three chord call to arms slamming against Charlie Watts' insistent, pulsating groove. They never sounded as vital again.
5. Honky Tonk Women (single, 1969)
There are few more iconic Stones images then Keith center stage, belting out the signature open G chords of "Honky Tonk Women" with just one hand, cigarette firmly between his lips. While it's not the official start of the song (more cowbell!), it's the game changing moment when the song gets its wings and becomes one of the most enjoyably ribald romps of the band's catalog.
4. Can't You Hear Me Knocking (Sticky Fingers, 1971)
Keith crunches out the serrated riff on this highlight from the Stones' best album like he's twisting someone's head in a vise. While many remember the song more fondly for the Bobby Keys / Mick Taylor led jam in the second half of the song, the first half may be the best two and a half minutes of the band's career: they never sounded punchier or tighter as the unit, and it's Keith who gallantly leads them into such a gritty sweet spot.
3. Jumpin' Jack Flash (single, 1966)
For many, "Jumpin' Jack Flash" heralded the start of the band's peak years of 1968-72; it's hard to argue against it. Now experimenting with unorthodox tunings and recording techniques, Keith created a sound on "Jumpin' Jack Flash" that was primal, urgent and completely inimitable. It's a furious blend of the band's blues roots, the burgeoning psychedelic scene, and their own slashing, swinging signature sound. Everyone on this track hit a new level artistically, but it was Keith who kicked the door down for the rest to follow suit.
2. Gimme Shelter (Let It Bleed, 1969)
I almost put this one at number one on the basis that "Gimme Shelter" is my favorite song of all time. Period. By anyone. I relented in the face of objectivity, but no Stones song, or any for that matter, will have as lasting an impact on me. Keith's opening riff is the aural equivalent of being circled by sharks or slowly choked out by a large snake: it's sinister, repetitive and takes its time before going right for the throat when you least expect it. It sets up the song's apocalyptic fury perfectly, sweeping you right up like the storm in the opening line. Every subsequent moment of "Gimme Shelter" is a response to Keith's dynamic intro, bringing out the best in each band member as they do their best to match the swagger and intensity he immediately brings to the table.
1. (I Can't Get No) Satisfaction (Out of Our Heads, 1965)
Could it have been anything else? Keith literally dreamed up the riff, fell asleep and woke up with it fully formed. The fuzzy, buzzing riff is the sound of rock and roll: rebellious, dangerous, sexy and grooving. A call to action. "Satisfaction" is the Stones' and possibly rock and roll's equivalent of the national anthem. It's their most enduring classic, and it's all thanks to the man rightfully called the Human Riff.